The story of the Buldo fishing floats & Buldo fishing tackles invention
Research leading to the invention of the first BULDO® float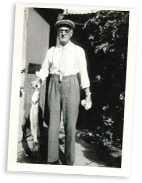 Jean Grizaud, inventor of the BULDO®, belonged to a family from the Lyon area of France. He started out working as a crimper in a well-known silversmith's, and was an avid fly fisherman. He spent the vast majority of his time preparing flies so as to go on fishing trips in his favourite rivers and torrents in the Dauphine Region.
His careful and accurate work and sense of observation allowed him to create some of the most effective flies which would guarantee a full basket of fish at the end of a day's fishing. It was at this same period that he discovered that fish were attracted to the air bubbles created at the base of waterfalls and torrents. However, the Second World War broke out and our fisherman returned almost blind which would completely overturn his life forever since he would no longer be able to ply his trade in the silversmith's.
And so, a new life began for the fisherman. However, the rivers continued to call, but his visual acuity was so seriously reduced that he could no longer make out the fly attached to his line.
Registration of the BULDO® patent and industrial production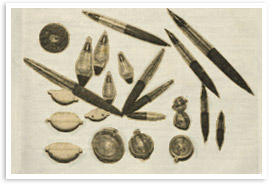 Following his return from the War, he was compelled to seek another job. He was hired by a factory manufacturing transparent plaques. It was then that he suddenly remembered the idea of the bubbles which attracted fish! He asked his colleagues if they could shape the plaques in the image of an air bubble.
But, whilst working, handling the material in such an astute manner as was required for manufacturing tackles was no easy task. Following many attempts and several long hours of research, our fisherman and his colleagues managed to succeed in the production of floats in large quantity.
Jean Grizaud registered the patent for his invention on the day following the armistice and launched a cottage-scale industry, before then moving to an industrial scale manufacturing process, producing 100,000 BULDO® during 1945 alone.
Expansion of the BULDO® range and brand development in Europe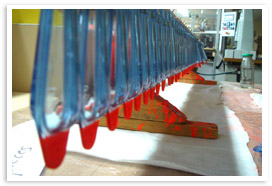 BULDO®'s began to sell like hotcakes and very soon the bubble shaped float began to be sold widely throughout Europe.
In 1965, competition began to heat up. Jean Grizaud's son succeeded the inventor and began developing new products such as the 80 gram BULDO® for ocean fishing and lead floats.
The company is one step ahead of the competition and BULDO® tackles are exported to Europe (Spain, Belgium, Germany, Greece, Finland, Sweden, etc.) and even to Canada. Only 40% of overall production is intended for the French market.
BULDO® is moving towards international distribution of tackles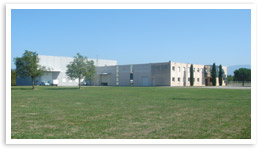 The BULDO® family business is acquiring the BONNAND® brand to complement its offer and to become a reference in the fishing sector. It will, in so doing, be adding to its already expansive range with boxes of lures, containers and specially designed storage devices to meet the requirements of fishermen.
As the last French manufacturer of tackles, BULDO® has incomparable expertise. Quality, durability and longevity of the products are the marks of excellence which have always sparked envy from foreign competitors, and led to many copies throughout the globe. This competition was difficult, but the company weathered the storm and is today a successful company on the inte4renational market.
BULDO® products distributed across the globe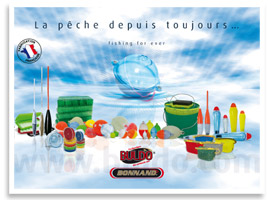 BULDO® is continuing in its expansion and always aiming to go one step further. Constantly seeking the latest trends in terms of innovation, our expert technicians each day strive to design increasingly effective and environmentally-friendly products. For, using BULDO® products is also a way of respecting heritage and fishing sites as each float or article is designed using "clean" material. Particular attention is placed on the origins of colours, leads (with the latter never coming into direct contact with water), and other raw materials.
Finally, products are "made in France" which guarantees proximity to all retailers. This is, moreover, an assurance for all fishermen that they will be able to find the most suitable products in a short space of time.